Venue
Mahtay Café & Lounge
241 Saint Paul Street, Saint Catharines, ON L2R 3M7
Saint Catharines, ON, CA, L2R 3M7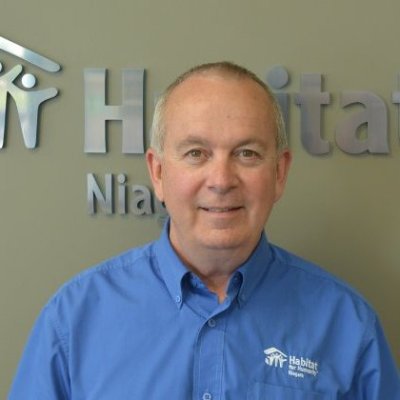 This month we are pleased to present as our guest speaker Alastair Davis, Chief Executive Officer of Habitat for Humanity. 

Before taking the CEO role at HfH in 2006, Alastair enjoyed a career in Executive Human Resource Management spanning various industries including financial services, resource industry, manufacturing and the federal government. 
For over 10 years he has enjoyed and been driven by the challenge of breaking the cycle of poverty through affordable homeownership. Alastair's focus is working with a governance-centric Board of Directors, planning and developing strategic partnerships, teamwork, and seeking innovative means to increase Habitat for Humanity's capacity to serve more families.
His specialities include board governance; strategic community relationship building & development; leadership, facilitating, coaching and mentoring; partnerships & fund development; strategic planning; execution of implementation plans; recruitment; government relations; land acquisition and development; and volunteer engagement.
Alastair will be speaking on the following topics and taking questions about them from the audience:


History of Habitat for Humanity in Niagara


Business Model(s) (Affordable Ownership and Restores)


How has or is Habitat adapting to the changes in the local housing market?


Keys to Success for Habitat as a Social Enterprise


---
Are you an entrepreneur, investor or startup community stakeholder? Come have some drinks and meet current and aspiring social entrepreneurs* at Social Startup Meetups on the last Wednesday of each month at Mahtay Cafe.
Vist our newly launched website here http://www.socialenterpriseniagara.ca/
---
Communities only get stronger when their leaders do. Additionally, local leadership is stronger, more relevant, and responsive when business, government, and the voluntary sectors work together. 

Typically the business sector measures success in terms of economic impact, whereas for nonprofits and charities, success is about being able to successfully address social issues. In other words we're stacking up money versus humanity and compassion. Of course, we need both. And yet, we seem to separate the two with a very clear dividing line. This has created the challenge of not being able to find an infrastructure that addresses the need for both economic impact and social innovation.